Brushing your teeth is one of the core pieces of a healthy oral care routine. It helps keep your teeth healthy and strong. But maybe you've noticed that despite daily brushing, your teeth are off-white or yellow.
You might be surprised to know that teeth can naturally have a yellowish colour created by an inner layer called dentin. Even if you brush every day, your teeth may still look yellow if your enamel is thinning and revealing your dentin or your enamel has been stained.
If you aren't satisfied with the natural colour of your teeth, you can visit your dentist for teeth whitening treatments. We can go beyond routine dental cleanings and exams to help you address stubborn stains and brighten your smile.
Are Teeth Supposed to Be White?
Your teeth have a protective outer shell—kind of like the shell of an egg—called enamel. Enamel is the hardest part of the tooth and protects the more delicate inner layers. The protection provided by enamel helps keep the rest of your tooth safe when you're biting into hard foods or drinking something sugary or acidic.
But enamel can become transparent to some degree and may reveal parts of the colouring of the layers underneath, including your dentin.
Dentin is the middle layer of your tooth and makes up most of the structure. It helps keep the enamel strong, but it's also connected to nerves underneath. So, if you chip or damage your enamel, you may feel discomfort in your dentin—since it's closer to the nerve.
Because dentin is typically normally yellow or off-white, when your enamel is partially transparent, you may sometimes notice your teeth appear yellow. Sometimes, there are certain factors that can come into play that partially stain your enamel too, making this yellow colour much more visible.
Why Are My Teeth Stained?
The factors that can increase tooth discolouration and cause staining include:
Food and drinks: Certain foods and beverages like coffee, tea, red wine, and dark berries can stain your teeth over time.
Tobacco use: The chemicals and substances in smoking and chewing tobacco can cause significant tooth discolouration.
Medications: Some medications, particularly certain antibiotics, can darken tooth enamel.
Age: As you age, your enamel can naturally begin to wear down, which can reveal more of the yellow-coloured dentin underneath. Stains may also build up naturally on your enamel over time.
Recent trauma to the teeth: Tooth trauma can lead to yellow or brown spots underneath the enamel.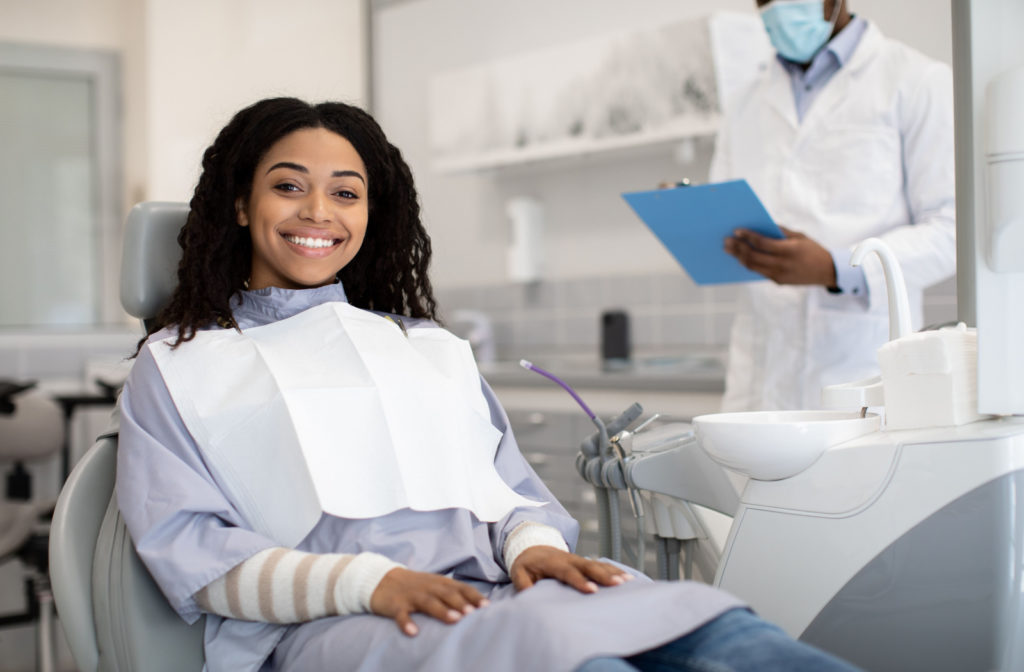 Tips for Preventing Tooth Stains
While some yellowing is natural, you can take some steps to prevent excessive staining of your teeth, including the following:
Limit how often you consume foods and drinks that can stain your teeth.
Rinse your mouth after eating or drinking.
Avoid smoking, which can significantly affect your oral health and the appearance of your teeth.
Avoid excessive alcohol consumption.
Maintain a proper oral care routine. Brush your teeth 2 times a day for 2 minutes with a fluoride toothpaste, floss regularly, and use mouthwash.
Visit your dentist at least every 6 months.
Remember, good oral hygiene is about more than just keeping your teeth white. It's crucial for preventing gum disease, tooth decay, and other oral health issues too. So, while you might be focused on the colour of your teeth, don't forget about the overall health of the rest of your mouth either.
Can You Make Your Teeth Whiter?
If you don't like the natural colour of your teeth, don't worry! Professional teeth whitening treatments may be able to help. These treatments can lighten the colour of your teeth, giving you a brighter, whiter smile. Just remember, teeth whitening treatments aren't permanent and require maintenance. They are also not a substitute for routine oral hygiene habits.
Before making any decision about tooth whitening, you should speak to your dentist. We can provide professional advice and recommendations based on your individual oral health.
Teeth Whitening with Riverwalk Dental
If you're not satisfied with the colour of your teeth and want a whiter smile, book an appointment with us at Riverside Dental.
During your appointment, we can discuss the benefits of teeth whitening and help you determine if it's right for you. Remember, everyone's smile is unique, and at the end of the day, keeping your teeth healthy is vital for avoiding other oral health issues.