Healthy gums are essential for good oral health, but issues can arise with time. For some patients, their dentist may recommend a gum graft. This surgery can help improve your gums, but you may wonder when you need this graft.
You need a gum graft when they recede to the point your dental health is at risk. Receding gums expose the roots of your teeth, increasing the chance of sensitivity and tooth decay.
What Is a Gum Graft?
A gum graft is a procedure that helps treat gum recession. The roots of your teeth are exposed when gums recede, increasing your risk of cavities, sensitive teeth, and potential bone loss. A gum graft can help prevent these problems by restoring lost gum tissue.
Before you can get this treatment, your dentist needs to determine your eligibility. They can examine your teeth, mouth, and gums during a dental exam.
How Do Gum Grafts Work?
Gum grafts help address gum recession by removing tissue from the mouth and placing it over your exposed roots.
After numbing your gums, your dentist makes an incision, creating a flap in the gums. They then clean the roots of your affected teeth. Next, your dentist creates an incision in the roof of your mouth, removing connective tissue.
This tissue covers your exposed roots, treating gum recession. Your dentist positions the gum tissue and stitches it into place. After surgery, your dentist provides aftercare instructions and plans follow-up appointments to monitor your recovery.
Types of Gum Grafts
Depending on your needs, there are different gum grafts your dentist may recommend. They'll suggest a procedure after completing a dental examination.
The different gum grafts include:
Connective tissue graft: This graft is the most common, used to treat receding gums and protect your teeth.
Free gingival graft: A free gingival graft can help patients with thin gums, providing extra tissue.
Pedicle graft: Dentists recommend pedicle grafts when a patient has excess gum tissue growing near their exposed teeth.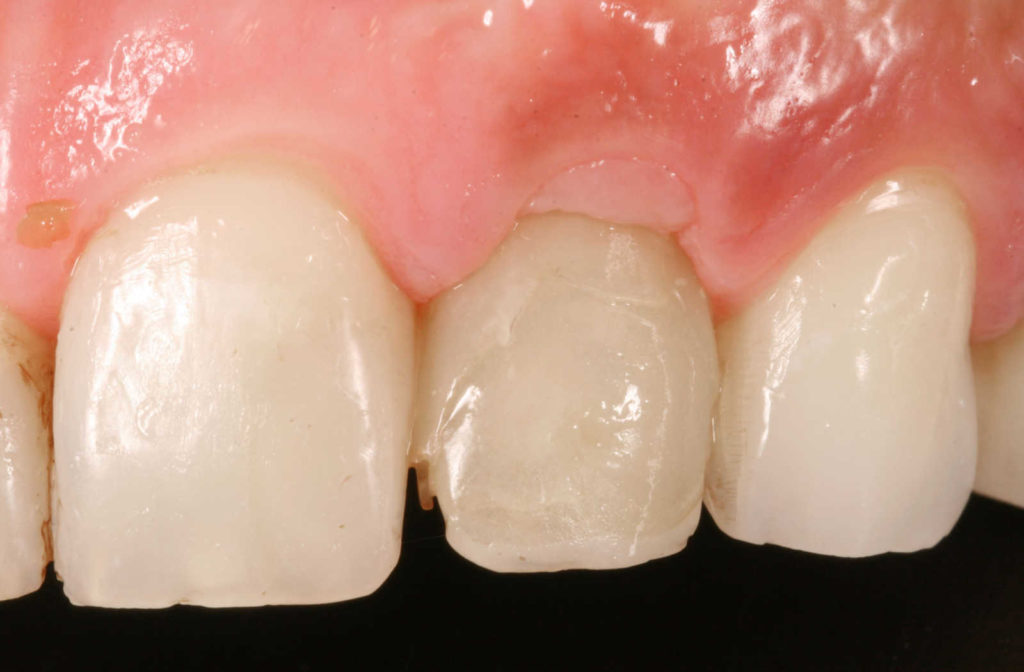 When Do You Need a Gum Graft?
You typically need a gum graft when the gums recede and expose the roots of your teeth. Receding gums may be a sign of gum disease, or your gums might thin naturally.
Other factors can lead to receding gums, such as:
Aggressive brushing
Hardened plaque
Hormonal changes
Family history of gum disease
Diabetes
Smoking
What to Expect During a Gum Graft?
Before beginning your procedure, your doctor will numb the treatment area to ensure you're comfortable. Depending on the graft you get, you can expect the following during your surgery:
Connective tissue graft: Your doctor opens a flap in the roof of your mouth, removing connective tissue. They then stitch this tissue to the affected area in your mouth, treating receding gums.
Free gingival graft: During a free gingival graft, your doctor removes tissue from the roof of your mouth to stitch it to your gums. Your doctor does this to improve your gums if they're thin.
Pedicle graft: Your doctor creates a flap of tissue near your receding gums, using it to cover the treatment area. This treatment differs from other grafts because gum tissue is moved from one area to another, rather than tissue being taken from the roof of your mouth.
No matter the graft you get, you'll need several weeks to recover.
What Does Recovery Look Like?
You can go home the same day of your surgery, but you'll need to care for your gums as you recover. Your dentist will likely provide a special mouthwash to prevent infection and other potential problems. Ensure you listen to your dentist's instructions until you heal.
Additionally, you'll have to change what you eat during the first 2 weeks of your recovery to avoid damage to the gum graft. Some good foods to rely on include:
Scrambled or soft-boiled eggs
Soft, cooked vegetables
Ice cream
Jell-O
Cottage cheese
Yogurt
Protect Your Dental Health
Receding gums can put your teeth and dental health at risk, but you aren't stuck with this problem. A gum graft can help restore your smile and protect your teeth from unnecessary issues. Your dentist can recommend this treatment after examining your teeth during a dental exam. Contact Riverwalk Dental if you experience receding gums.